Since the newspapers are generally filled with stories about the fighting in the Middle East, and reminding us that it's a brazillian degrees outside, I like to look for other more important stories.
Shit like stories on
2 year old children who totally love to water ski
just rock my fucking world man. This kid is a hero. I mean do you know what 2 year olds are doing in Lebanon and Israel right now?Ducking for cover, the little fucking pussies. Pick up a gun and shoot you little mama's boys.This kid is 2, and skiing!!!!ON WATER!!!!He's like Jesus or something man.Speaking of Jesus Christ, let's move on to our next story.So I flip a few more pages and I come across a story from Hungary.Now I've never been too big a fan of Hungary. Turkey has always been my favorite of the food related countries.My opinion of Hungarians has changed though. They're having a vote across the country about what to name a new bridge that's being built.Who's winning?
Chuck Muthafuckin Norris
, that's who.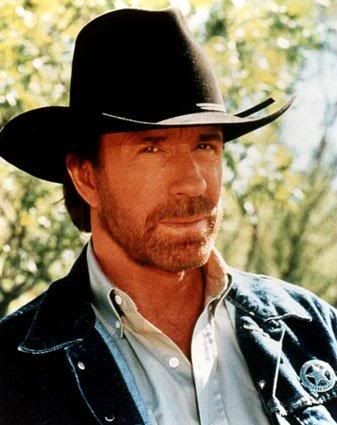 I wish American voters were as smart as the Hungarians.There is one possible problem with naming a bridge after Walker Texas Ranger.What if he takes it the wrong way? What if he feels it's a threat upon his mighty mighty manhood?That bridge is just one Chuck Norris roundhouse kick away from being completely leveled. I mean didn't Chuck Norris tell Moses to tell us something about false idols, and not creating them?Well wouldn't a bridge named after the God among man that is Chuck Norris technically be a false idol? We all know that Chuck is a vengeful God, remember when he singlehandedly (or footedly I guess the case may be) killed all the dinosaurs for interrupting Chuck's meditation? That wasn't even a dino-sin, and he totally smote those mofo's.Finally, I came across
this story
. It's about some dudes who wrote a book that answers our stupid questions about our lives. Like 'Why do men fall asleep after sex?' and other stupid questions that only incredibly stupid people feel like they need to know the answer too.Well they answer these questions scientifically, and we all know what that means.....incorrectly. Science is for pussies, that's what George W. tells me, and he's a devout Norrisian so I trust him.So I'll share with you a couple questions from the book, along with the books answers, and then I'll follow that with the real answers. The Keepin It Real Answers.Let's go. (The book's answers are in regular type face, while the Keepin It Real answers are italicized.)1. WHY DO MEN FALL ASLEEP AFTER SEX?The answer likely lies in the orgasm. Both men and women release a number of hormones after orgasm, including oxytocin, prolactin, gamma amino butyric acid and endorphins. All can produce a drowsy effect in both men and women but, write Leyner and Goldberg, "we all know who orgasms more frequently." The answer may also lie in that sex and climax depletes muscles of energy-producing glycogen. Since men have more muscle mass than women, men become more tired after sex, they say. Some women also report being energized after orgasm.
That's bullshit. The real reason men fall asleep after sex is so we don't have to talk to her afterwards. Have you ever listened to a woman talk? For Norris' sake, they say some stupid shit, especially after sex. Things like 'I love you', or 'Hold me.' Going to sleep saves us from having to tell lies like 'I love you too', or possibly hurt their feelings by asking them just what the hell they're still doing here. Also as for the "we all know who orgasms more frequently" line, maybe in your "limp dicked couldn't get a girl off if she did it for you" world doc, but in my sex life it's an equal oppurtunity endeavor. In fact, I CAN'T sleep if she doesn't enjoy herself. Mostly cuz I have to listen to her bitch about it for hours on end, not cuz of my conscience.
2. WHY DO MEN HAVE NIPPLES?During development, the embryo follows a female template until about six weeks when the male sex chromosome kicks in for a boy. Males are thus left with nipples and some breast tissue.
Cuz giving a girl a tittie twister is considered rape these days.
3. DOES STANDING ON YOUR HEAD AFTER SEX INCREASE YOUR CHANCES OF BECOMING PREGNANT?No, though some experts recommend placing a pillow under the woman's hips.
After sex? She's usually standing on her head DURING sex in my world. Also, the pillow thing is also very helpful in helping the ladies climax as it allows for deeper penetration, and increases the likelihood that the mythical G-spot will be found. (I hope my grandma reads this entry!!)
4. WHY DOES IT HURT SO MUCH FOR MEN TO GET KICKED IN THE TESTICLES?Testicles are covered in nerves, and there is no muscle or bone to cushion trauma. Men wear jock straps while playing sports to keep the testicles from bouncing around while running.
I don't know, why don't I kick you in the balls and we'll find out. Cuz our balls are the givers of life man, and they must be protected. The best way for us to learn to protect our balls is by finding out how much it hurts to be hit in them. It's evolution baby.
5. WHY DO WE HAVE PUBIC HAIR?Odor is a crucial component in mating. Humans produce erotic scents called phermones, which are created by certain sweat glands. Pubic hair and underarm hair "are a human being's primary 'scent traps' '' -- scents that spark other changes in the body related to whether a person finds another attractive, say Leyner and Goldberg.
Ya, cuz women find my nuts totally irresistable after I've just been playing basketball in 95 degree heat for 2 hours. They just smell so good. Why is there hair on our balls? Well why is there hair on your head idiot? It keeps you warm, and pubic hair keeps your love sack warm. Didn't you ever see the Shrinkage episode of Seinfeld? Don't you know what happens when Frank N. Beans gets cold?
6. DO BIG HANDS AND BIG FEET EQUATE WITH BIG SEX ORGANS IN MEN?A study of 104 men, reported by the British Journal of Urology, found no connection.
Ya except the fact that all of them have tiny hands and feet. It's totally true, and ladies, I wear a size 13.
7. DO MEN NEED MORE SEX THAN WOMEN?Maybe. A group of men and women were shown arousing photographs of attractive couples having sex while an MRI took scans of their brains. Two areas of the brain were more activate in men than women.
Maybe!? Then riddle me this Batman, why is it that when men don't ejaculate for a while they have wet dreams, yet women don't just spontaneously orgasm in their sleep? Why is it that men think about sex ALL THE FUCKING TIME while women think about that great sale at Macy's? Why is it that I'm humping my fucking keyboard right now cuz I thought it smiled at me!?!?! Maybe!?!?!?! MAYBE!?!?!?!?!?!?!?!?!?!?!? You fucking morons!!!! How in the hell did you get through med school?!
Keepin It Real Since 1980,
Tom